» Overview


» Management


»

Business Verticals




»
Vision & Quality

»
Environmental Policy

» Our Strength


» Certification






About Us

Our Group
YAAT LLC is a group company of Al Aamri Universal, soon to be named as "YAAT Group". Al Aamri Universal Group has diversified its business in various industries and operating 5 companies in a row and are listed below :



• YAAT LLC



• Shmookh Oman Tradingg. LLC



• Makhadha Golden Enterprises. LLC



• Al Aseer Al Mutamyez Trdg. & Cont. Co.



• Al Aamri International LLC


Chairman Message »


"YAAT Group's aim is to create outstanding and durable value for its shareholders / customers. The Group's Statement of Business Principles sets out the core values and behaviors that we believe are essential elements of sustainable value creation.



Our commitment is that we should operate to the highest ethical standards; that safety should be of paramount importance in the way we manage our business; Through our businesses we should make a positive contribution to economic, social and environmental development in the countries in which we operate. We believe that, taken together, these commitments represent key elements behind a sustainable business proposition and long-term value creation".

Dilip Sampat - M.D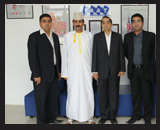 Photos from left:


• Mr. Parimal Sampat


- Director



• Mr.Yousuf Bin Ahmed Al-Aamri




• Mr.Dilip Sampat


- Chairman & M.D



• Mr.Vinal Sampat


- Director